Training on Energy Modeling Improves Climate Change Mitigation Efforts in Asia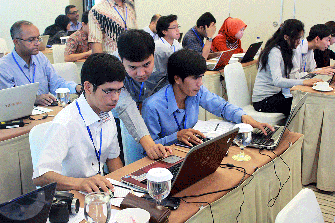 Asian policymakers and researchers learn new skills to assess energy policies and greenhouse gas emission reduction options
Rapid economic growth in many developing Asian countries, including China, India, and Indonesia, which contain more than one-third of the world's population, is contributing to rising energy demand and growing emissions of greenhouse gases (GHGs) that are responsible for global climate change.  While sustained growth is essential for reducing poverty and improving living standards, it is possible for developing Asian countries to shift to a sustainable energy pathway while maintaining economic growth, improving energy security, and mitigating climate change.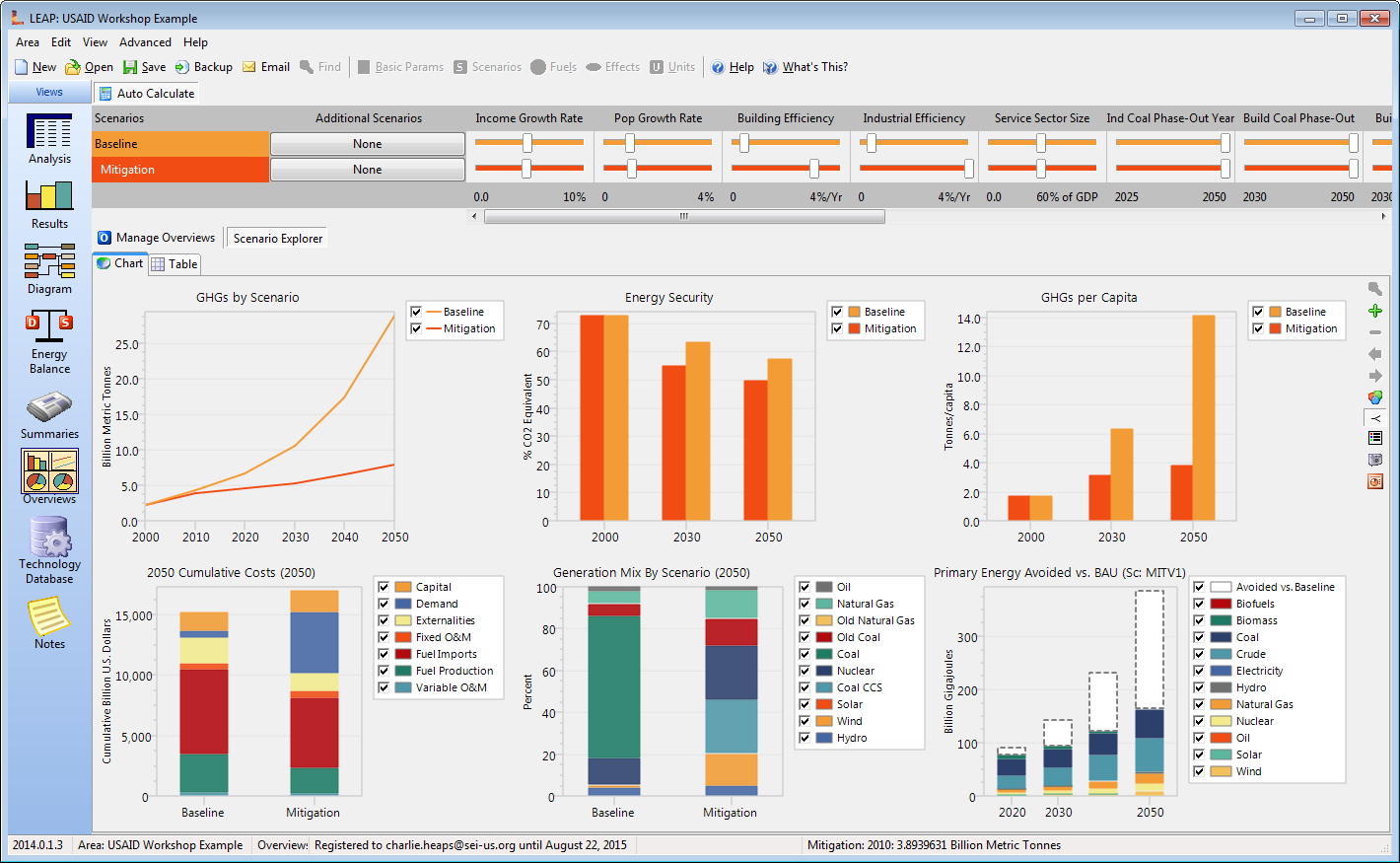 To assist partner countries, USAID's regional Low Emissions Asian Development (LEAD) program is training Asian energy experts, planners, and policymakers on use of the Long-range Energy Alternatives Planning System (LEAP) software, a sophisticated tool for energy policy analysis and GHG mitigation assessment. The USAID program conducted a series of trainings in Indonesia and Thailand in 2013 and 2014 for more than 80 participants from 10 ASEAN and South Asian countries.
Led by LEAP developer Dr. Charlie Heaps from the Stockholm Environment Institute (SEI), an implementing partner of the USAID LEAD program, the hands-on training focused on advanced features of the software including energy optimization and assessing the cost-effectiveness of energy policies and options to reduce GHG emissions at the national and sub-national (e.g., city and province) level.
Results from the trainings were evident immediately. At the March 2014 training in Medan, Indonesia, conducted in cooperation with the USAID Indonesia Clean Energy Development (ICED) program, a team of Indonesian energy experts were able to overcome challenges in their efforts to combine 33 provincial LEAP software files that project the energy supply, energy demand, and GHG emission trends in each province into larger models for an island, the nation's six geographic corridors, and eventually the entire country.
Participants from the trainings are applying their new skills around the region: in Vietnam researchers at the Vietnam Academy of Science and Technology are using LEAP to develop a model for renewable energy in the power sector of Thai Nguyen Province; in Thailand, staff at Thammasat University are using LEAP to develop energy savings scenarios for university buildings; in Indonesia, new research is underway at Surya University using LEAP for energy modeling of the Jabodetabek region (that includes the cities of Jakarta and Bogor); and LEAP is being applied for simulating energy demand of households in the Greater Mekong Subregion (Cambodia, Laos, Myanmar, Thailand, and Vietnam) as part of a regional initiative to improve energy efficiency.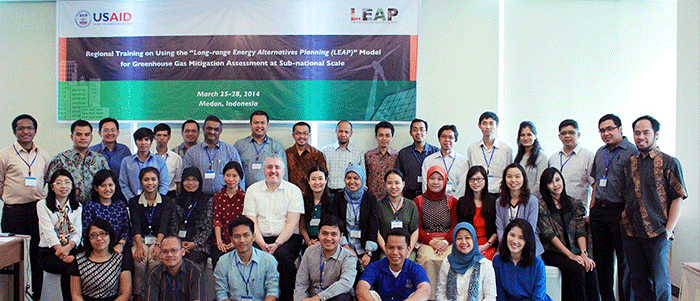 Participants from Cambodia, India, Indonesia, Laos, Nepal, Thailand, and Vietnam learn advanced functions of the LEAP software tool at a four-day workshop in Medan, Indonesia in March 2014.
In addition, the USAID LEAD program organized a roundtable for advanced users of the LEAP tool in April, 2014 to share best practices and discuss ways to further regional collaboration. As a result, LEAP experts who participated in the roundtable agreed to establish a LEAP "community of practice" in Asia, and are already providing answers to questions posed by other LEAP users online, and the LEAP user guide is being translated into Thai.
"The LEAP training was very well organized and was structured to facilitate different kinds of interaction and learning amongst LEAP users and modelers from different countries in the region. It enabled us to learn from each other and also to build partnership for future collaboration on modeling using LEAP."  Dr. S.S. Krishnan, Center for Study of Science, Technology & Policy, India
The USAID LEAD program will offer additional LEAP trainings over the next two years, in response to strong interest within the program's partner countries. The USAID LEAD program, which runs through September 2016, is implemented by ICF International and partners including SEI.