USAID Holds Third Regional Training to Strengthen National Greenhouse Gas Inventory Systems in Asia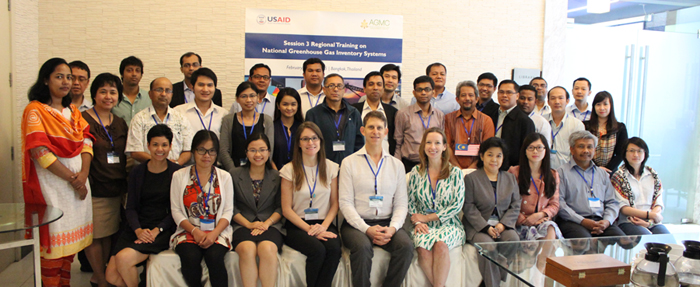 Participants from Bangladesh, Cambodia, Malaysia, Nepal, the Philippines, Thailand, and Viet Nam in Bangkok, Thailand for Session 3 of the Regional Training on National GHG Inventory Systems (NIS) series
March 2, 2015, Bangkok, Thailand -  Last week, February 25-27, key national greenhouse gas (GHG) inventory staff from Bangladesh, Cambodia, Malaysia, Nepal, the Philippines, Thailand, and Viet Nam gathered in Bangkok, Thailand for Session 3 of USAID LEAD's Regional Training on National GHG Inventory Systems (NIS) series. The training, led by experts from the USAID LEAD Program and Asian Greenhouse Gas Management Center (AGMC), assembled nearly 30 participants together for three days of intensive lessons and application exercises on international best practices for sustainable national GHG inventory systems. 
As reflected by participants' shared experiences and requests for inventory training, high quality national GHG inventories serve as an essential foundation for effective climate change action. By providing accurate, detailed, and complete information on GHG emission sources and sinks over time, GHG inventories allow governments to better manage emissions and evaluate the success of climate change policies. The USAID LEAD Program's NIS training series aims to build capabilities and knowledge of staff from different government ministries and sectors on elements of robust national GHG inventory systems, including data collection and measurement, quality control, and institutional arrangements, amongst others. Presentations by field experts on applicable tools and group exercises prepared participants - many of whom also attended the previous trainings in the series - to align their contributions to their respective inventories with the guidelines of the Intergovernmental Panel on Climate Change and United Nations Framework Convention on Climate Change requirements.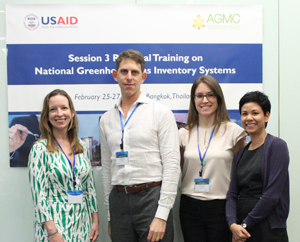 The US Environmental Protection Agency's inventory toolkit provided a foundation for the Session 3 training, providing a set of templates and tip sheets intended to reinforce the best practices in data collection, facilitate information sharing between sectors and organizations (both private and public), and establish standard approaches to data archiving. The USAID LEAD Program will continue to provide technical assistance to countries as they apply lessons learned to their current GHG inventory preparation cycles at home. Session 4 of the NIS Series is planned to be held June 2015.
To learn more about national GHG inventories, visit the USEPA website sections on GHG Emissions and National GHG Inventory Capacity Building, and visit the UNFCCC and IPCC websites for more details on reporting and guidelines for preparing national GHG inventories.