USAID LEAD and USFS Continue Support of Sustainable Management of Mangrove Ecosystems with Carbon Assessment Training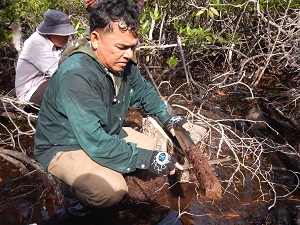 Koh Kong and Sihanoukville Provinces, Cambodia, February 8-25, 2015 – Staff from the U.S. Forest Service (USFS) and USAID Low Emissions Asian Development (USAID LEAD) Program spent three weeks in Cambodia this February continuing training with 33 participants from Cambodia. A follow-up to in-field trainings held in April 2014, the training focused on data collection methods to measure the amount of carbon stored in Cambodia's mangroves and other forested wetlands. In addition to building participant's skills in data collection, the in field work holds particular significance as data collected will be used to develop an accurate estimate of carbon stocks in Cambodia's mangroves for integration into the national GHG inventory.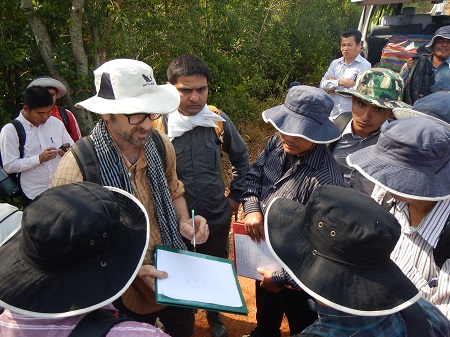 The Cambodia field trainings are part of USAID and USFS efforts to support the sustainable management of mangrove ecosystems in Asia. Mangroves are highly productive ecosystems that provide a wide range of products and services to both the communities living near them and the economies of countries in the Asia region, such as clean air and water. With their ability to remove and permanently store large amount of carbon, they help to address climate change – storing up to five times more carbon than most other tropical forests around the world. Despite their value, these ecosystems remain threatened by conversion, and other drivers of deforestation and degradation. Overexploitation and conversion of these ecosystems is among the leading contributors of greenhouse gas emissions from Asia. Quantifying the significant carbon value of these ecosystems, a primary objective of this field work, provides additional justification for their protection and helps countries incorporate them into their climate change mitigation and adaptation strategies. 
Training participants mastered in field protocols for data sampling and collection through classroom learning sessions lead by LEAD Program and USFS experts and through in-field data collection exercises. The training put LEAD's Field Protocol for Measuring Carbon Stocks in Mangrove Forests into practice, teaching participants how to apply data collection methodologies. Over the three weeks, the team successfully collected over 810 sediment samples from plots in Koh Kong, Sihanoukville, and Srea Ambel. The samples will be processed and analyzed at the Royal University of Phnom Penh, Kasetsart University of Thailand, and the US Forest Serve laboratory in Hawaii. Data collected will be combined with samples from an upcoming training in Cambodia's flooded forests to create the first carbon stock data set for wetlands in Cambodia and will be integrated into the national GHG inventory.
Additional information
Training Presentations